A key regional party has quit Prime Minister Narendra Modi's ruling federal alliance after a prolonged dispute.
The Telugu Desam Party (TDP), which rules the southern state of Andhra Pradesh, said the National Democratic Alliance (NDA) has been «unsupportive».
Although Mr Modi's government has a majority in parliament, the move signals a breach in an old partnership.
Correspondents say this could affect the BJP's strategy for upcoming parliamentary elections in 2019.
Mr Modi's Bharatiya Janata Party (BJP) currently rules 21 of India's 29 states but has little influence in the south. It has often relied on coalitions with regional parties in three of the four southern states.
The TDP first joined the NDA in 1998 but quit the alliance in 2004 after losing elections in Andhra Pradesh. In 2014, it rejoined the coalition before the national elections which were swept by the BJP.
Is new India state capital Amaravati more bane than boon?
What new Telangana state means for India
The exit from the alliance follows the TDP withdrawing two of its ministers from the federal government last week.
TDP chief Chandrababu Naidu's announcement comes in the wake of the Modi government's refusal to grant «special category» status to the state.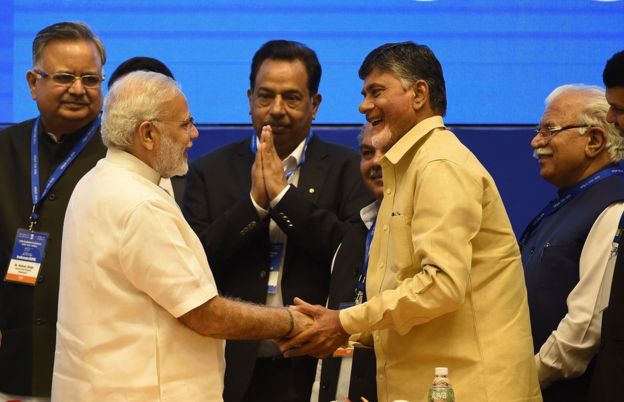 The status would have ensured more funds for the development of Andhra Pradesh and its new capital, Amaravati.
The state of Andhra Pradesh was formally divided in 2014, with its northern area carved out to create a new state called Telangana. The move followed prolonged protests by residents of Telangana, who felt the region had long been neglected.
Andhra Pradesh's former capital city, Hyderabad, was confirmed as Telangana's new capital. Mr Naidu has since focused on building Amaravati and has been asking Mr Modi for more funds.
In a public meeting held in the state on Thursday evening, Mr Naidu said that the people of Andhra Pradesh would not be «silent spectators to the injustice» meted out by the federal government.
GVL Narasimha Rao, the spokesperson of India's ruling Bharatiya Janata Party (BJP), responded in a tweet that the TDP's exit was a «timely opportunity for the BJP to grow» in the state